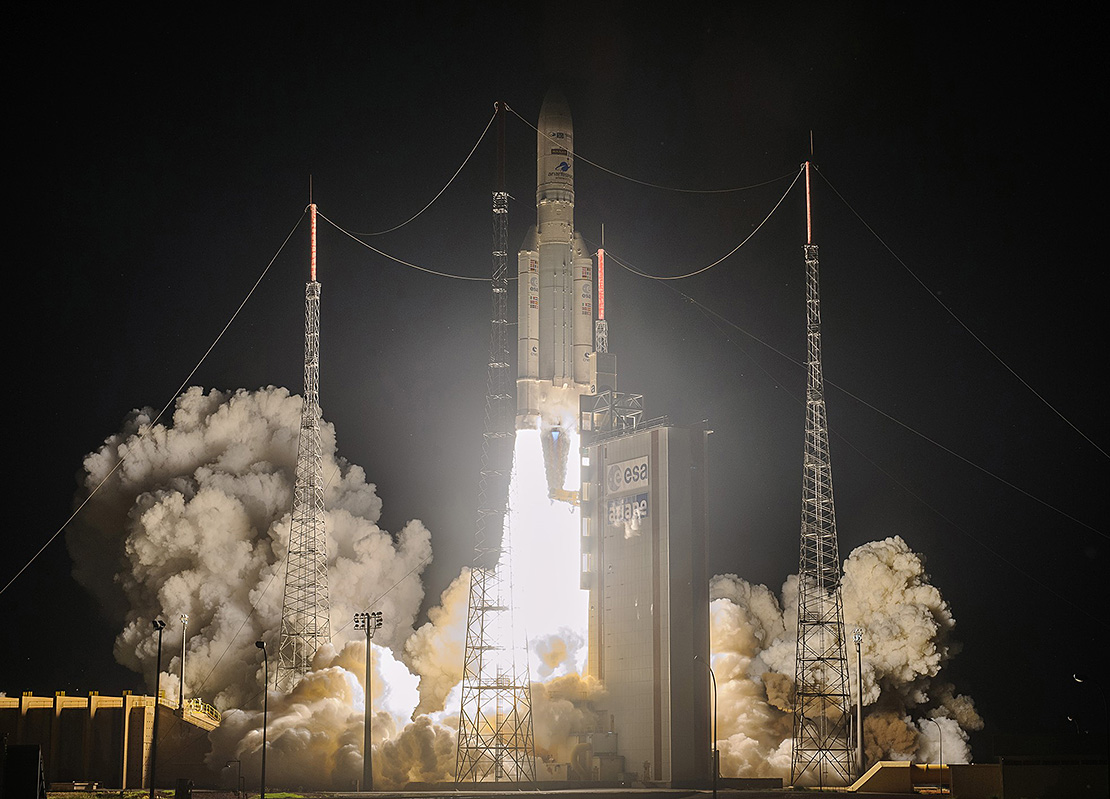 The ESA programme to develop and build European launch vehicles began in 1973. Since then, ESA member states have backed the development of five generations of Ariane rockets. They also provided funding for the construction of a launch pad in Kourou, French Guiana. The 30th anniversary of Ariane's maiden flight was celebrated in December 2009. By then, 193 Ariane flights had already taken place, carrying 318 payloads, including 276 large satellites. While the Ariane 5 launch vehicle currently holds the top position on the global market, in 2010 and 2011, Europe expanded its range of marketable launch vehicles to include two new rockets, the Soyuz in Guiana for medium-sized satellites and the Vega for small-sized satellites.
Contributions made by Swiss industry
Swiss industrial companies have been involved in the development and construction of European launch vehicles from the very early design stages of Ariane 1. Applying its know-how gained primarily from work on NASA programmes, a Swiss consortium run by Oerlikon Space AG - which became RUAG Space AG in 2009 - focussed on developing an external fairing to protect payloads, especially on the Ariane 1 rocket. Their efforts proved quite successful: in 1974, the Swiss consortium was awarded a contract and has been supplying fairings for every generation of Ariane to the current Ariane 5. The rest belongs to the history of the Swiss space industry: several generations of Swiss-made fairings have flown or still fly on all of the versions of the Ariane rocket as well as on the Atlas V rockets manufactured by Lockheed Martin. The Swiss-designed fairing will also be used for the ESA's future Vega launch vehicles. In addition, Swiss companies have contributed to the construction of test installations, to the development and maintenance of the European launch pad as well as to the equipment used to transport fairing components for payloads and satellites.
Further information