Swiss participation in the European Space Agency (ESA) has enabled Swiss research institutes and companies to acquire excellent competencies in state-of-the-art scientific and technological fields. They regularly demonstrate their expertise in the form of essential components or software for international space exploration projects. Some of the most remarkable Swiss achievements in the space sector are listed below.
Claude Nicollier - Swiss Ambassador in space
Claude Nicollier is currently the only Swiss astronaut. After twelve years (!) of training, he flew into space for the first time on 31 July 1992 on board the US space shuttle Atlantis. He then went on three other space flights, including two missions to maintain the Hubble Space Telescope. Today, as professor at the Swiss Federal Institute of Technology Lausanne (EPFL), he shares his unique knowledge and experience with future generations.
Swiss-manufactured payload fairings for European launch vehicles Ariane and Vega
RUAG Space AG has been involved in the space sector for over forty years. The company holds a solid position thanks to the ultra-light and highly robust structures that it produces. RUAG Space AG is one of the main manufacturers of payload fairings based on composite materials technology. It supplies these fairings namely for the European launch vehicles Ariane 5 and Vega. This Swiss product has proven to be extremely reliable in over 200 Ariane launches so far.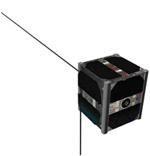 SwissCube-1 - Switzerland's first satellite
SwissCube is the first satellite to be entirely built in Switzerland. A small cube measuring 10 cm on each side and weighing only one kilo, this picosatellite was designed and built under the guidance of the EPFL Space Center in partnership with various Swiss universities (of applied sciences). On 23 September 2009, it was placed in orbit at an altitude of about 850 km by an Indian launch vehicle. SwissCube-1 will study the airglow phenomenon in the upper layers of the Earth's atmosphere.
Swiss atomic clocks
Rubidium technology developed in Switzerland has enabled the design of atomic clocks based on theRubidium Atomic Frequency Standard (RAFS). These clocks are highly appreciated for their extreme precision and stability (mainly to measure the propagation delay of a signal and - by deduction - the corresponding distances). Their margin of error is only about 0.00000000001 seconds per year. Swiss rubidium atomic clocks proved their merit on the satellites put in space to test the Galileo navigation system. As a result, they were chosen for the operational constellation of satellites for the Galileo system.
Solar sail experiment on the lunar surface
The first scientific experiment ever conducted by a manned mission to the moon originated in Switzerland. During the Apollo missions, solar sails fixed to poles were planted onto the lunar surface to analyse "solar wind" (flow of solar particles). These sails, made of thin aluminium foil sheets, were then brought back to Earth for laboratory analysis. This experiment enabled scientists to measure the proportion of isotopes of the noble gases helium, neon and argon in solar wind for the first time. This series of experiments was made possible primarily thanks to the design work and efforts of the University of Bern's Physics Institute.
Lowering and elevation of terrain, example: Venice
The image shown here is an illustration of a spectacular application of modern satellite data: the radar interferometry method was used to generate this image, which highlights surface deformations in Venice. The zones in orange, red and violet are sinking at a rate of 1-2 mm per year, whereas the zones in blue and green are rising at a similar rate (up to 1 mm per year in the light blue zones). The techniques enabling such a high degree of precision of analysis were developed by the University of Zurich and are marketed by the Bern-based company Gamma Remote Sensing and Consulting AG.